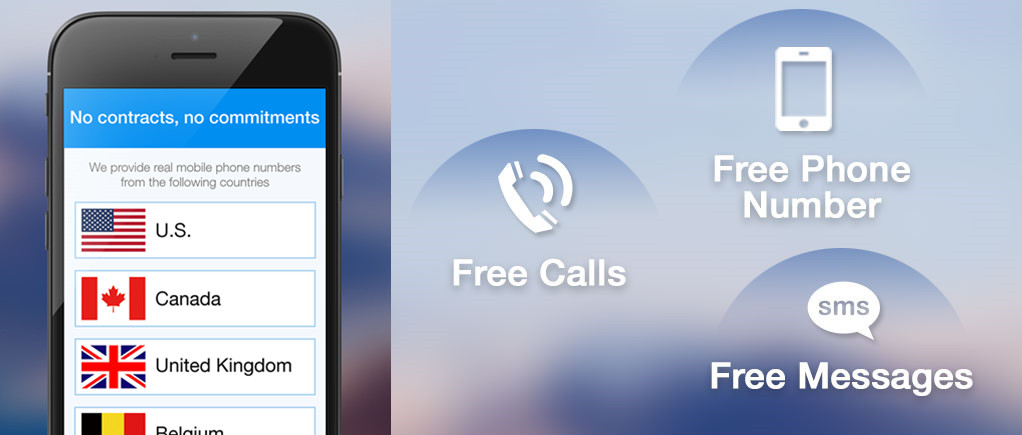 Telos provides numbers for multiple countries
Telos provides international phone numbers from many countries that you can use to talk and text:
. United States
. United Kingdom
. Canada
. Spain
. Netherlands
. Sweden
. Belgium
. …..
If you travel often, you know the pain of paying heavily for long distance fees and roaming charges. Now you can avoid these unnecessary costs by getting a local phone number on Telos. The process is quick and easy and you don't even need an extra SIM card to get the new number. Whether you are looking for an alternative to current mobile plans or want to add a second line to your device, Telos is the best bet.
Telos provides millions of real phone numbers in the area of your choice including vanity numbers and toll free numbers for you to choose from.
- Choose a real phone number with any area code you like.
- Enjoy free calls & texts via WiFi or cellular data—no more phone bills.
- Receive incoming calls & texts from anyone, in any country.
- Avoid roaming fees while travelling overseas.
Real phone numbers for unlimited calls and texts
The number you get on Telos works just like any other regular phone number with features like call block, caller ID display, call forward, and voicemail message. There are no monthly fees, no long term contract, and no extra SIM card needed for the number.
- It can receive calls and texts from any person.
- You can use the phone number as the contact phone number for your bank accounts, utilities, and websites.
- It can even be ported out to your phone company if you like.
What you can do with Telos free phone number:
1. Get a local number when arriving in a new country
A local phone number is essential whether you are going abroad to study or work in a new country. Still remember the hassle of getting a local phone number on your last trip abroad? With Telos, now you can do the prep work with more ease. You can pick a local phone number on Telos without swapping your SIM card.
All you need is a mobile phone, iPad, iPod, or tablet with a WiFi or 3G/4G data connection, and you are good to go for unlimited free calls. You can make free calls and send free texts to anyone in the world, even if they don't have the app.
-Get a local number to avoid roaming fees.
-No contract and no hidden fees.
-Call any landline and mobile phone.
-Unlimited free calls and free texts via WiFi or cellular network.
2. Save big on phone bills while traveling
Get a local phone number to enjoy local service when you're traveling abroad. Stop paying outrageous roaming charges just to communicate with local friends, Uber drivers, hotels, and restaurants.
-Keep in touch with local friends and stay on budget.
-Avoid heavy roaming fees while overseas.
-Communicate with Uber drivers, hotels, and restaurants.
3. Give your business a global presence
If you are about to expand your business globally, you'll need to be in constant communication with clients, sales reps, and other colleagues. A toll-free number or local number not only gives your business a professional touch, but also bridges the distance between you and your customers.
- Get a toll free number to attract more calls from customers.
- Get local numbers to establish your business in multiple countries.
- Make your business look more professional.